In his latest film Bullet Train, Brad Pitt displays the wry, self-referential humour that has earned him a unique and enduring status in Hollywood, writes Caryn James.
F
First he was the hunky boy toy in Thelma and Louise, a small role that made viewers wonder, "Who is he?" back in 1991. Then he was the heartthrob younger brother of lookalike Robert Redford's off-screen narrator in A River Runs Through It (1992). He famously became half of Brad and Jen while married to Jennifer Aniston, then half of the tabloids-can't-get-enough-of-them "Brangelina" during his years with Angelina Jolie. All the while, his looks and his marriages may have overshadowed something else. Brad Pitt has built a body of work that most actors only dream of. With performances that range over multiple genres and three decades, and a savvy public relations strategy, his is a model of how to manage a movie-star career.
More like this:
-       10 films to watch this August
-       Why Nicolas Cage is so misunderstood
-       Is Tom Hanks part of a dying breed of moving stars? 
His new action-comedy Bullet Train says a lot about that career. Pitt plays a character as goofy as his code name, Ladybug, a hitman in an unflattering bucket hat. Between fending off assassins on a high-speed Japanese train and trying to steal a briefcase full of cash, Ladybug is trying to become a calmer guy, sincerely spouting self-help lines. "Let this be lesson in the toxicity of anger," Pitt says with deadpan precision after one violent encounter. Bullet Train is an action extravaganza, but the movie's distinguishing feature is its sardonic tone, shaped and carried by its star's performance. Watching it, you could almost make the case that Pitt is a very good dramatic actor, but even better at comedy.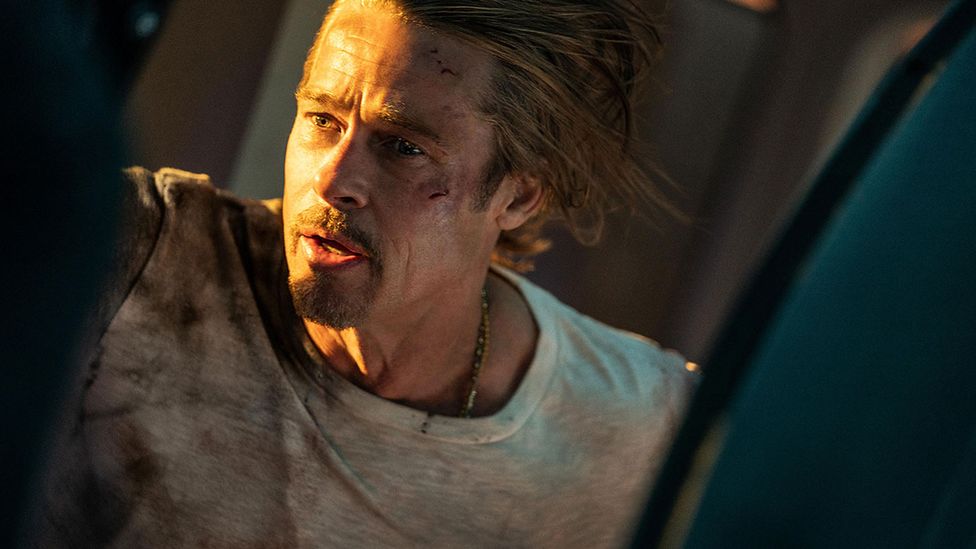 In new action-comedy Bullet Train, Pitt plays Ladybug, a goofy hitman in a bucket hat (Credit: Sony Pictures)
His true strength is more complicated than holding up masks of comedy or tragedy, though. Pitt's best performances are the kind that won him his Oscar as the stuntman Cliff Booth in Once Upon a Time in… Hollywood (2019): drama infused with dry humour. As Cliff, his smile is a kind of smirk, but mischievous, not off-putting. As Aldo Raine, the Nazi-scalper with a plummy country accent in Inglourious Basterds (2009), Pitt brought a whiff of humour and absurdity to the film's life-or-death theme. That serious-but-droll combination is his sweet spot, and it works beyond those two Quentin Tarantino films. It's in underappreciated roles, like the hitman (yes, another one) in Andrew Dominick's Killing Them Softly (2012). It's in the ease he brought to a stressed-out baseball general manager in Bennett Miller's Moneyball (2011).
With no single on-screen persona apart from looking like Brad Pitt, he can avoid being typecast or becoming stale
Pitt didn't find that sweet spot right away. He gave powerful and respected dramatic performances almost from the start of his career. He defied his pretty-boy looks as a patient in a psychiatric hospital in the time-travelling 12 Monkeys (1995) and as the pummelled alter ego in Fight Club (1999). His flat-out comedies are rare, but they exist. He sails hilariously through Joel and Ethan Coen's Burn After Reading (2008) as a gum-chomping, bike-riding, none-too-bright trainer in a gym. But nothing could really compete with his golden looks. He got an Oscar nomination for 12 Monkeys, released the same year he was People magazine's Sexiest Man Alive. We know which image stuck.

The turning point was Inglourious Basterds. That's where the sardonic smirk first took hold, where the accent and the crude army-issued haircut helped him escape the shadow of pretty-Brad. Tarantino's screenplay set the character up, but Pitt ran away with it, carrying that mix of drama and wit into other films.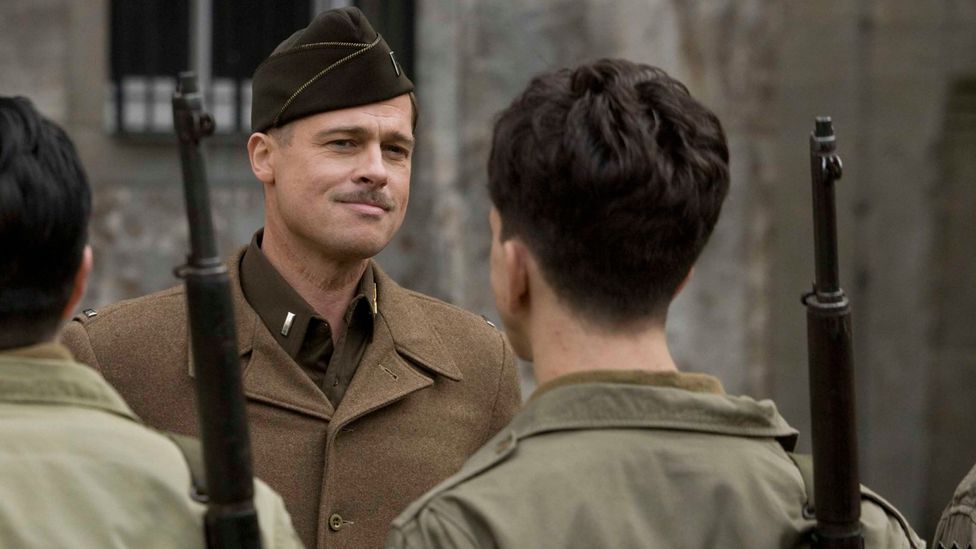 As Aldo Raine in Inglourious Basterds, Pitt brought a whiff of humour and absurdity to the film (Credit: Universal Pictures)
It was a clever career turn, different from the paths of most major stars of his generation and stature. George Clooney, 61, hasn't given up acting but has increasingly turned to producing and directing socially conscious films. Tom Cruise, 60, clings to his action past, with this year's Top Gun: Maverick and an apparently endless string of Mission Impossibles, turning a static image into box-office hits. Matt Damon, 51, has gone from Jason Bourne to earnest dad in films like Stillwater (2021). But Pitt, 58, has picked roles that are all over the place. In the last decade or so he has appeared in World War Two dramas and contemporary satires and chosen some sly cameos. That range is part of a canny formula. With no single on-screen persona apart from looking like Brad Pitt, he can avoid being typecast or becoming stale.

Finding the sweet spot

In recent years he has come to mock the pretty-boy image without turning his back on it, a disarming tactic. Showing up in Bullet Train with the silly hat and big nerdy glasses, as if he isn't one of the world's best-looking faces, is a strategy he has put to good use before. In his scene-stealing cameo in this year's adventure rom-com Lost City, he plays a fixer who arrives on the island Sandra Bullock's kidnapped character has been taken to. Her first words to him are a stunned, "Why are you so handsome?" Pitt answers matter-of-factly, "My dad was a weatherman," which may be the funniest line in the entire film.

He casually dismisses his looks in Once Upon a Time in Hollywood as well, to meta and comic effect.  Bruce Lee tells Cliff, "You know, you're kind of pretty for a stuntman." With that bemused smirk, Pitt replies, "That's what they tell me."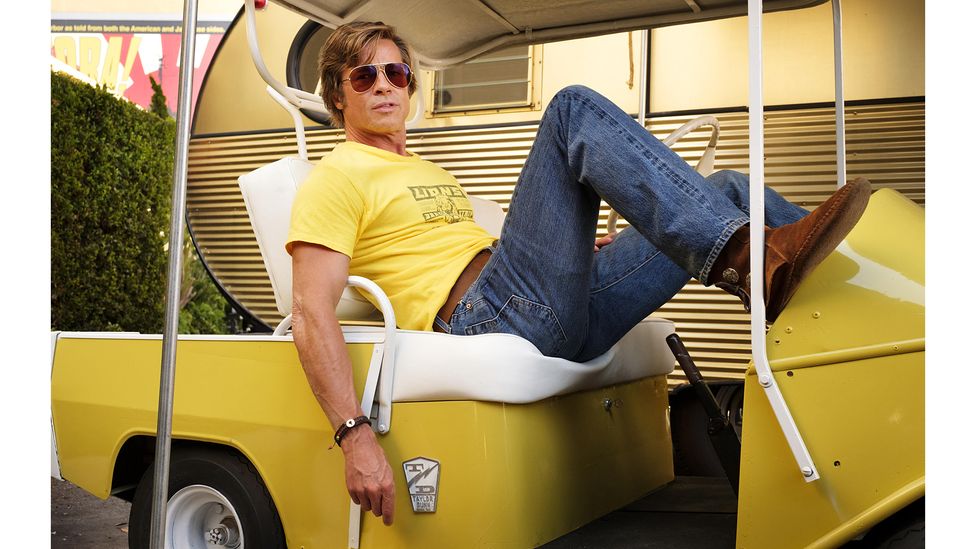 Pitt won an Oscar for his performance as stuntman Cliff Booth in Once Upon a Time in… Hollywood (2019) (Credit: Columbia Pictures)
Although Pitt won the Oscar in the best supporting actor category for that film, his role and Leonardo DiCaprio's as the nominal lead, Rick, are nearly equal. Pitt gives the character such charisma that he almost steals the film, just as Raine steals Inglourious Basterds. When Cliff visits a ranch where the Manson family is squatting, he suspects they're taking advantage of an old friend (Bruce Dern). It's another of Pitt's smartly-pitched sweet-spot moments, balancing concern for a blind old man with an easygoing charm and an awareness of the situation's absurdity.

And in Killing Them Softly he infuses a sometimes graphically bloody drama with wit.  Scruffy, with greased-back hair and a leather jacket, Pitt's character is ruthless, but uneasy doing a hit at close range. "You ever kill anyone?" he asks the middleman who's setting up the murder. "They get all touchy-feely, emotional. They cry, they plead, they beg... It's embarrassing," he says, making a squeamish face. "I like to kill them softly, from a distance." The scene would have been totally different if Pitt had delivered the line with a tough-guy tone instead of dry wit.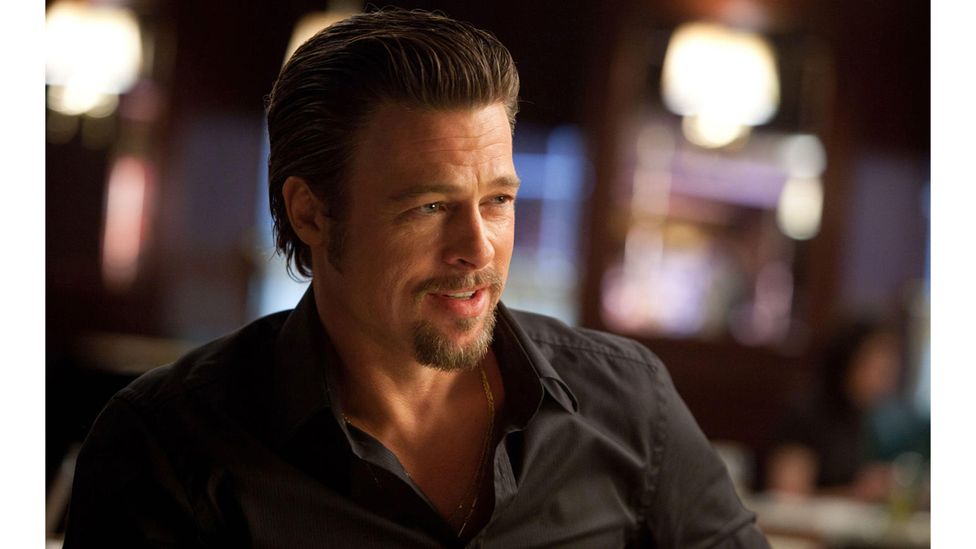 Playing a hitman in 2012's Killing Them Softly, Pitt infused the bloody drama with dry wit (Credit: Plan B Entertainment)
Bullet Train doesn't hit the Pitt sweet spot, although it makes a half-hearted attempt. In an interview for ET Canada, he mentions the movie's levity, adding, "Yet underneath it is the theme of fate, free will," which he calls "the undercurrent of the film, through this delivery system of comedy." Nice try, but while there is lots of talk about fate and luck on screen, Bullet Train is too cartoonish to hold any real drama. (Why should it? It's a fun-enough action comedy.) But that comment speaks to Pitt's own awareness of what works best for him.

Over the years he has taken a few generic movie star roles, the kind that some other megawatt actor could have handled without changing the film's DNA. In World War Z (2013), one of Pitt's highest-grossing films, he tracks a virus causing a zombie apocalypse. He's at the centre of the action, but this isn't exactly a "Brad Pitt film" because his performance doesn't shape what it is.

Bullet Train is a Brad Pitt film because it wouldn't be the same without him. The film is thoroughly amusing when Ladybug tangles with two British assassins played by Brian Tyree Henry and Aaron Taylor-Johnson, actors totally on Pitt's deadpan wavelength, but at times goes flat because the rest of the roles and actors lack his sardonic edge.

A savvy strategy

In the last decade Pitt has caught viewers even more off-guard with a string of wartime movies. David Ayers' middling Fury (2014) is a big old-fashioned World War Two action film, with Pitt as a gung-ho character nicknamed "Wardaddy". Robert Zemeckis's Allied (2016) is a big old-fashioned romantic World War Two film. Pitt leans into movie-star type as a dashing Canadian undercover agent teamed with Marion Cotillard. Allied is such a blatant throwback that it actually starts in Casablanca, but the film and the performance work anyway. The satiric War Machine (2017) is an ambitious failure. Pitt's performance as an arrogant US military commander in Afghanistan is more caricature than satire. While he worked wonders with his bemused arched eyebrows in Once Upon a Time, in War Machine he has a perpetually furrowed brow and his right eye is constantly squinting, which looks like an actor trying too hard.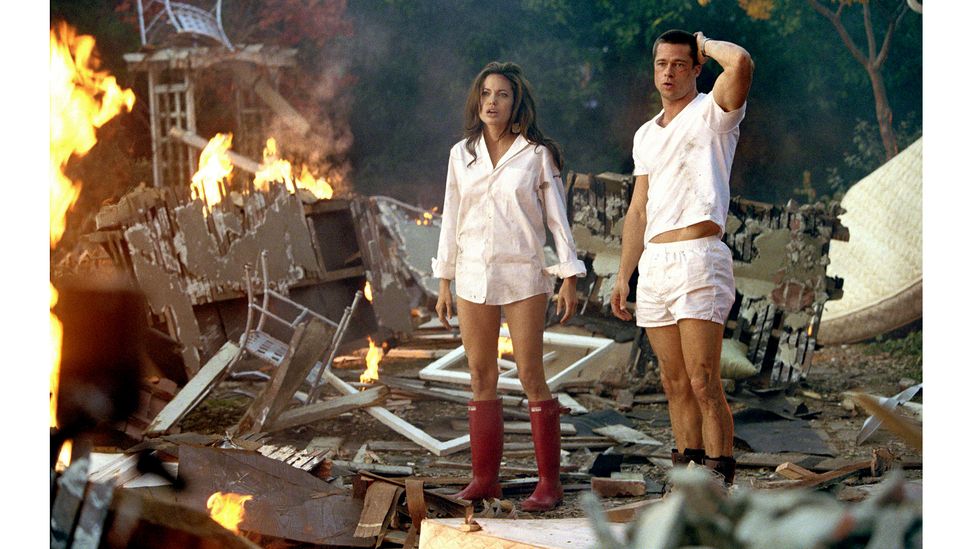 Brad Pitt starred with his future partner Angelina Jolie in Mr & Mrs Smith (2005) and in By the Sea (2015), which she wrote and directed (Credit: Alamy)
A side benefit of all that variety, though, is that Pitt's private life has only bled onto the screen when it was inevitable, as in Mr & Mrs Smith (2005), where he met and co-starred with Jolie, and By the Sea (2015), which she wrote and directed. They play a couple whose marriage is on the rocks. Hmm – their marriage ended in 2016. The publicity did not. Even now, it's hard to keep up with their legal status, amidst an ongoing custody fight about their six children and his lawsuit over her sale of her share of their jointly-owned winery.

But in recent years he has shrewdly managed to keep the focus elsewhere as much as possible. His Once Upon a Time Oscar campaign was flawlessly orchestrated, with one charmingly modest acceptance speech after another. And look at the strategy he has employed during the Bullet Train publicity tour, potentially pulling focus from his personal issues with a series of attention-grabbing red-carpet fashions. He leapt into the air in a neon-green suit at the Los Angeles premieres. The linen skirt suit he wore at the Berlin premiere was meant to get attention, but it was also a highly-styled look so rumpled it almost looked unstyled, just like his PR calculations.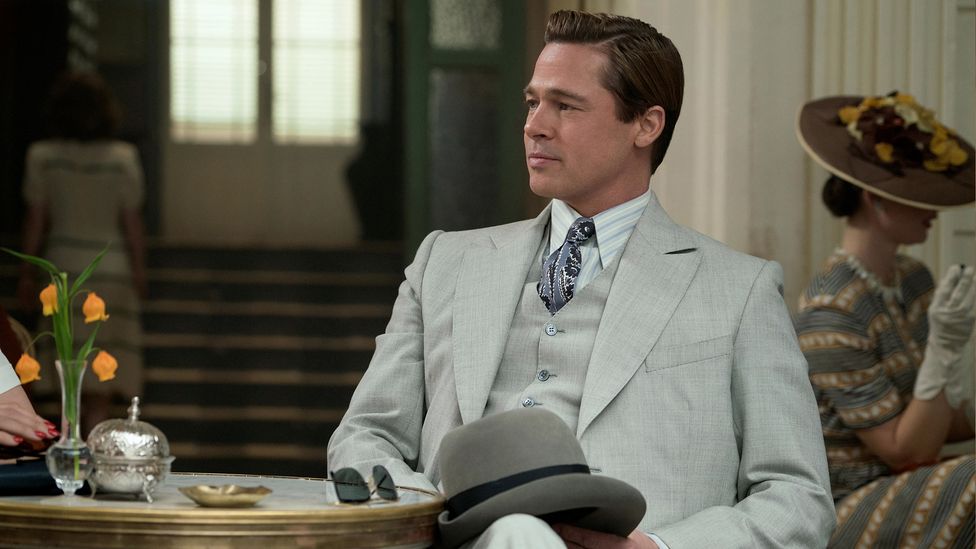 Pitt leaned into the movie-star type in Robert Zemeckis's old-fashioned World War Two romance, Allied (2016) (Credit: Alamy)
In the August issue of GQ magazine, in an extremely softball interview, Pitt talked about being sober and quitting smoking. He quoted the poet Rumi. But the photos made more of a stir, sending the internet wild, simply because they defy conventional leading-man glamour. In one he is wan, eyes rimmed with liner, lying in a watery bed of flowers like a dead Ophelia. In another, his eyes are adorned with rays of metallic silver makeup. With surreal, psychedelic backdrops, the photos were eccentric and completely unexpected. Agreeing to that was a savvy move too, the kind that keeps viewers curious and helps keep great actors' careers alive.

Pitt's follow-up to Bullet Train couldn't be more different from a popcorn action movie. In Damien Chazelle's Babylon, set in Hollywood in the 1920s and due to be released in December, he plays a character reportedly based on silent-film idol John Gilbert. The role embraces conventional Hollywood glamour. But Pitt's droll sense of his image and career shows us how to be a movie star – not an Instagram celebrity or an influencer, but an enduring, old-fashioned movie star – one for the 21st Century.

Bullet Train is released in the US on 5 August.

Love film and TV? Join BBC Culture Film and TV Club on Facebook, a community for cinephiles all over the world.

If you would like to comment on this story or anything else you have seen on BBC Culture, head over to our Facebook page or message us on Twitter.

And if you liked this story, sign up for the weekly bbc.com features newsletter, called The Essential List. A handpicked selection of stories from BBC Future, Culture, Worklife and Travel, delivered to your inbox every Friday