Once a trading gateway to the world, Finland's ancient capital of Turku is carving out a new niche as a Nordic food hotspot, driven by invention and a superlative local larder.
I
I got my first taste of why Turku – the oldest city in Finland – has become a new Nordic food hotspot as I sampled my way through its 19th-Century Market Hall. The handsome red-brick building is set a block back from the River Aura, which flows through town and out into the Turku Archipelago – the world's largest archipelago, where around 40,000 islands stretch across the Gulf of Bothnia towards Sweden.
At fish merchant Herkkunuotta, owner Johann Helsted proffered a plate of pike roe whipped into a sour cream mousse. "When the pike roe is raw it's not so good – people throw it to the seagulls," he told me. "But this has been cold smoked for three days in a traditional smoker made by fishermen. It gets an excellent flavour. And so, we change something from not so good to really good!"
The pike roe sat atop dark Archipelago bread (saaristolaisleipä), a local culinary icon flavoured with malt and syrup and prized both for delicious taste and long-life – ideal in past times to tide island residents through the winter. Next to it on the plate, a little heap of herring was paired perfectly with slightly sour, early-season local strawberries.
A couple of stalls along, Turku cheeses formed nose-tingling piles, from which I tried a red mottled local version of brie, plus a Nordic take on halloumi called leipajuusto that the lady at the counter assured me is delicious fried. Down another aisle, a stall holder held out a hunk of pork sausage studded with raisins (rusinamakkara). When I asked how non-traditional Nordic ingredients like raisins came to be inside a traditional Turku sausage, my guide Annamari Laine offered a lesson in commodities history. "As an important port, Turku was a very international city since medieval times. So, they would have had raisins coming here," she said.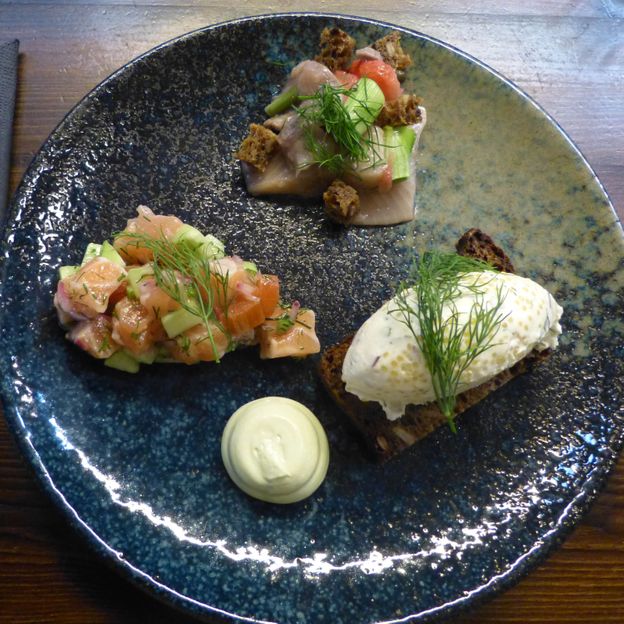 A tasting platter at the Herkkunuotta fish stall includes pike roe on Archipelago bread and a twist on gravadlax made with herring (Credit: Norman Miller)
Turku has status beyond once being Finland's trading gateway to the world. Tucked away in the south-west corner of the country, Turku is not only the nation's oldest city (founded in 1229), but it proudly served as the capital for nearly six centuries. You can still see grand edifices like its medieval castle and 13th-Century cathedral nodding to past glory. Things only changed when invading Russians shifted the capital in 1812 to a then considerably smaller place called Helsinki, on the grounds that it was more conveniently located nearer the Russian border. This still prompts wry amusement in Turku, where you can buy posters and T-shirts that demand: "Make Turku capital again".
While that's not going to happen, Turku is carving out its own gourmet niche, driven by invention and a superlative local larder. There's foraged and fished delights from the vast archipelago that flanks the city, while Turku is also surrounded by Finland's finest agricultural land, overseen by pretty clapboard farmhouses. In hunting season, duck, venison and elk are abundant. The river provides too: "There are 38 different kinds of fish in the Aura," said Laine.  
At Kaskis restaurant, chef Erik Mansikka has recently earned Finland's first Michelin star outside Helsinki. His passion for foraging local ingredients shines through on his menu, with dishes celebrating every aspect of Turku's bounty. There's cured rainbow trout with pickled rhubarb; while another dish forges an innovative partnership between turnip, local apple and wild truffle from the nearby island of Ruissalo, plus distinctive Finnish caviar gathered from sturgeon further out in the archipelago. Dessert includes ice cream flavoured with local spruce.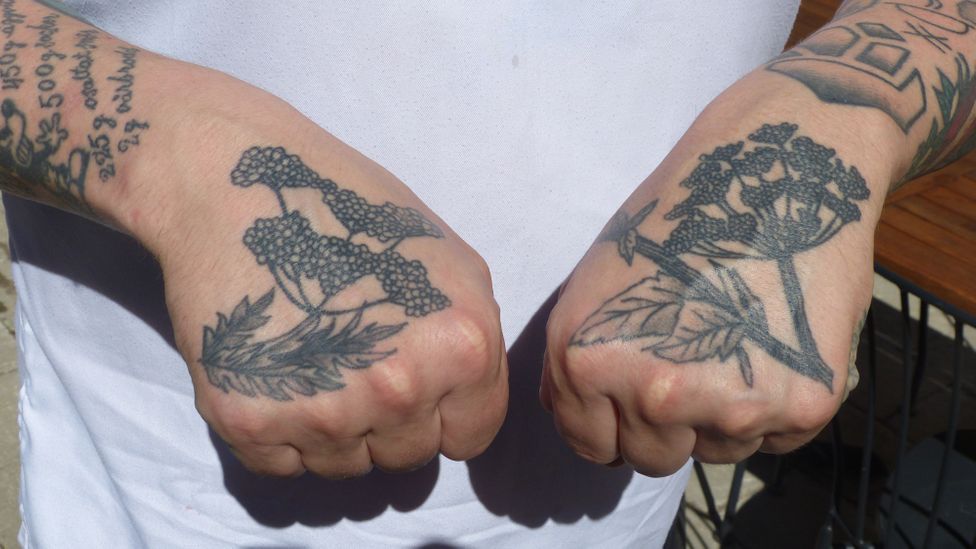 Erik Mansikka, one of Finland's leading chefs, has tattooed his hands to help him identify particular plants on foraging forays (Credit: Norman Miller)
"If I didn't have a restaurant, I would be in the forest finding wild herbs and flowers," Mansikka admitted, telling me about the aniseed-scented herb sweet cicely that he recently gathered to ferment for use later in the year. Such is his foraging passion that Mansikka, who is inked from top to toe, has even tattooed detailed images of two similar-looking edible plants on the back of his hands to help tell them apart out in the wild.
Why bring food ideas from another part of the world to Finland when we have our own history? We have to be proud people from Turku and the archipelago
On the banks of the River Aura, Restaurant Oobu, meanwhile, spotlights fresh archipelago produce via beautifully crafted versions of traditional island dishes in a classic historical riverside mansion. Standouts include fried char, berry pie and soup made from smoked-on-the-premises salmon. "Why bring food ideas from another part of the world to Finland when we have our own history?" asked owner Turo Jokinen over lunch. "We have to be proud people from Turku and the archipelago."
Food festivals dot the Turku calendar, including Finland's first vegan street food event Vegånia (August) and the Herring Festival (October). My visit coincided with the New Potato Festival, held every June in the beer garden of the excellent Koulu brew pub, where guest chefs rustled up dishes featuring freshly dug local potato varieties like siikli: served simply with butter alongside herring at one stall; cold smoked with brisket and spruce foam at another.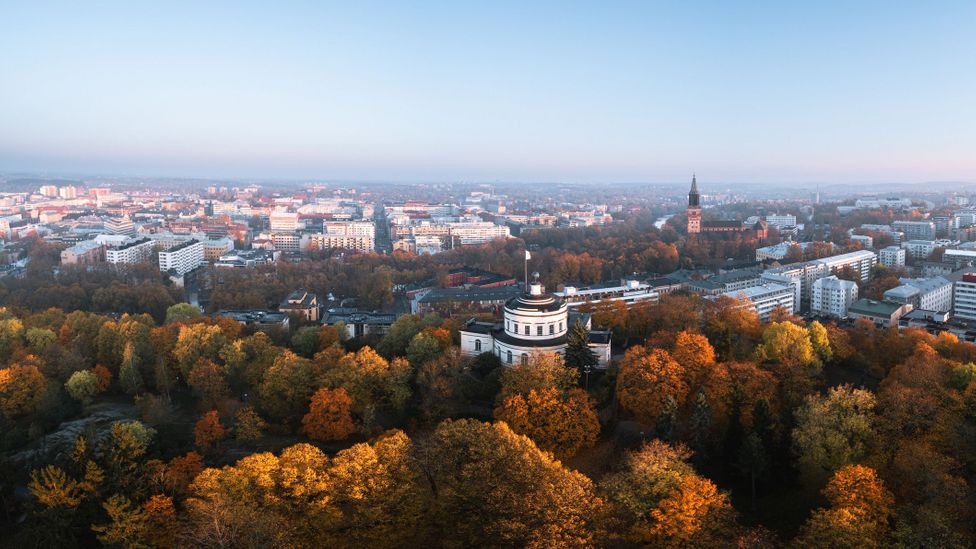 Turku is surrounded by Finland's finest agricultural land and flanked by a vast archipelago (Credit: Jarmo Piironen/Getty Images)
Turku has a perfect potato-growing climate: enough winter snow to kill blight but mild enough to allow the country's earliest harvest. "Everyone here has a taste memory of new potatoes, said Maarit Keto-Seppälä of local food association Kaffeli. "We say the virgin potatoes never see a second night, because they are always taken out of the soil and eaten the same day." 
Turku is forging a reputation for fine local beers too, with the Kakola Brewery leading the way. Its changing array of beers are on offer in the tap room on the top of Kakola Hill, set amid the 19th-Century granite buildings of what was once Finland's toughest prison. Kakola's sales manager Teemu Artukka told me about seasonal beers such as the blackcurrant sour they make every autumn, as well as an experimental "atelier" series. "They are beers we only brew once then never again," he said. "We started the series two years ago, and now we are up to number 29. It's kind of a test laboratory to try out new ideas – like the Gooseberry Wild Ale that relies on the wild yeast that is everywhere in the air. And we are planning to harvest sea yeast too."
From the city centre, I took a 20-minute waterbus to the island of Ruissalo, where historical boat yards built the world's finest and fastest wooden racing boats a century ago. Today, they provide a backdrop for atmospheric cultural and event spaces, plus various food outposts.
I'd come to meet chef Leena Laakso, who celebrates a link between American barbecue and the Finnish love of smoked food. At the island's Tenlen BBQ & Smokery, alongside smoky BBQ meat dishes that would be familiar in the US Deep South, she serves dishes such as smoked pike perch with Finnish accompaniments like apple slaw. Laakso also explained how she chooses different local woods to impart the most suitable flavour to her ingredients: "I use birch for fish, and apple wood for pork – the apple trees grow at one of the chef's summer cottages," she said.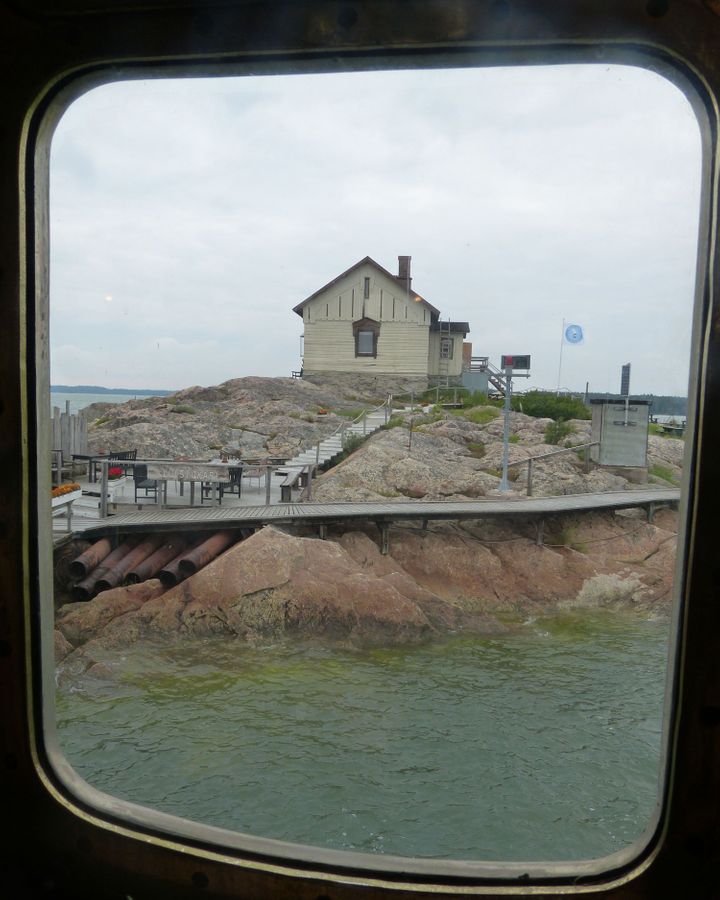 During summer, visitors can travel on the vintage steamship Ukkopekka to the tiny island of Loistokari (Credit: Norman Miller)
On my last evening, I boarded the vintage boat s/s Ukkopekka to get a taste of food further out in the archipelago. Finland's last working passenger steamship offers dinner cruises through the panoply of islands, and we glided past wooded shores dotted with bright yellow and red wooden villas to the island of Loistokari, about an hour's sailing from central Turku. As we got further out, vistas got wilder, buildings became rarer and the islands got rockier.
Though Loistokari is tiny – a little hump of pink granite rising maybe 20m out of the sea, and no more than 200m wide – its natural larder provides plenty for an al freco archipelago feast, which visitors eat at wooden tables just metres from the sea.
This is the home of food writer Niina Malkia and her partner Jukka Remahl, whose little clapboard house sits on one side of the island. For my visit, Remahl had smoked freshly caught fish in a little wooden hut by the shore, while Malkia provided foraged pairings – like the sea buckthorn whose tiny berries provided tart taste explosions alongside salmon. Another dish paired herring with chives, still sporting tiny purple flowers.
It's amazing how there are so many different kinds of plants here, although the island looks just like a big rock
Inside her atmospheric 150-year-old house, Malkia told me about the archipelago's foraging bounty, which fuels the food scene blossoming in and around Turku. "All the accompaniments [to the meal] were found on this little island," she said. "It's amazing how there are so many different kinds of plants here, although the island looks just like a big rock. But people have lived on this island for 300 years, and I'm sure they ate everything then that the island had to offer."
I thanked Malkia for her time and headed back outside to enjoy wonderful food laid out beneath summer skies far out in a fabulous Finnish seascape.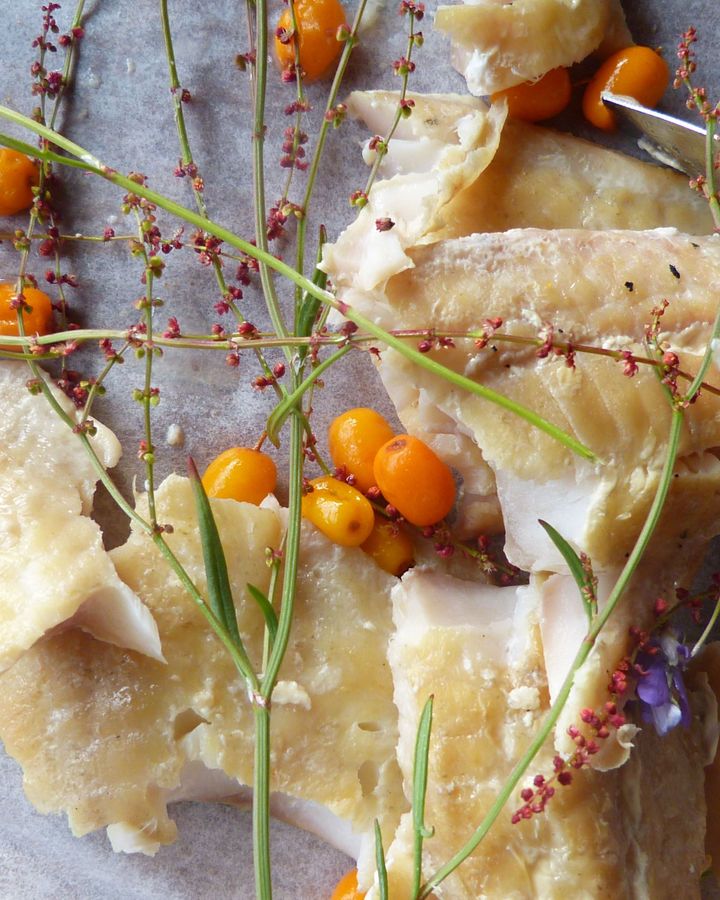 Food writer Niina Malkia and her partner Jukka Remahl serve up dishes like smoked local fish scattered with foraged sea buckthorn (Credit: Norman Miller)