Wimbledon: John Isner breaks all-time aces record against Jannik Sinner
By Alan Jewell
BBC Sport at Wimbledon
Last updated on .From the section Tennis
Wimbledon 2022 on the BBC
Venue:
All England Club
Dates:
27 June-10 July
Coverage:
Live across BBC TV, radio and online with extensive coverage on BBC iPlayer, Red Button, Connected TVs and mobile app.
By his own admission, John Isner is "most definitely not a better tennis player than Andy Murray". But as a tennis record-breaker, the man has aced it.
When the 6ft 10in American served his fifth ace of 24 against Jannik Sinner in the Wimbledon third round, he became the all-time leader on 13,729, overtaking Ivo Karlovic who banged the ball down from a similarly elevated height.
He did not even need to complete two service games on court two on Friday to get the five he needed, firing three in the first game of the match and four in a row from 0-30 down when it was his turn again.
When the record-breaker flew by Sinner, Isner celebrated the latest of his many landmarks with an understated shake of the racquet.
It was very much in keeping with the character of the man. He has managed to make clear he is proud of the record while at the same time demonstrating he does not take it - or himself - too seriously.
After beating Briton Murray in the second round on Wednesday, Isner was asked about the prospect of breaking the record and said: "Once I hit that number, whatever, not going to make an announcement or anything, but I'll know I have the record and it will be pretty cool.
"It's not going to put me in the Hall of Fame or anything like that, because that's not me. But I will be the all-time leader. I'll keep playing, keep adding to my total."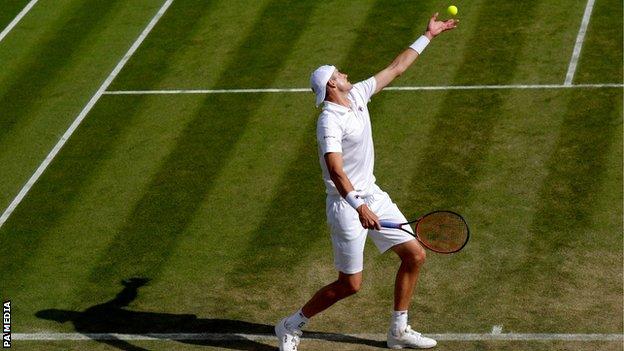 Having reached the summit, Isner believes he "could be up there for a long time".
By the end of the match against Sinner, the 37-year-old had extended his total to 13,748 - enough to win 3,437 games and nearly 573 sets.
The 24 aces on Friday were not enough to win the match though - he lost 6-4 7-6 (7-4) 6-3.
Isner - so often referred to as 'the big-serving American' - has finished first on the ATP Tour in aces in seven seasons and eclipsed the 1,000-aces mark seven times, including a career-high of 1,260 in 2015.
Going into Wimbledon, he was second on the all-time list in terms of the percentage of service games won with 91.81%, just slightly behind that man Karlovic - who towers over Isner at 6ft 11in - on 92%.
Focusing on active players, Isner leads the ATP Tour table of first serves landed with a 69.08% success rate, almost 1% ahead of Rafael Nadal.
| All-time aces record (men's ATP Tour) | |
| --- | --- |
| John Isner | 13,748 |
| Ivo Karlovic | 13,728 |
| Roger Federer | 11,478 |
| Goran Ivanisevic | 10,237 |
| Feliciano Lopez | 10,155 |
| Andy Roddick | 9,074 |
| Pete Sampras | 8,858 |
| Sam Querrey | 8,858 |
| Ivan Ljubicic | 8,138 |
| Milos Raonic | 8,136 |
For first-serve points won he is fourth on 78.71%, behind top man Karlovic (82.71%), Milos Raonic (81.44%) and Sam Querrey (78.92%). He moves up to third for second-serve points won (56.07%). The two players above him are quite decent - Nadal (57.30%) and Roger Federer (56.83%).
Speaking on BBC TV on Wednesday, three-time Wimbledon champion John McEnroe said Isner has "the greatest serve in the history of tennis". His height and 14ft reach make it a nightmare to return for opponents.
BBC pundit Tim Henman said: "It's a difficult serve to return, not just because of the pace but because it is coming down from such height. It bounces up. Instead of hitting it at waist height, you're hitting it at head height."
More than anyone, the world number 24 has turned tennis into an extreme sport. He has also changed the game.
Isner could win a Grand Slam but still be remembered for the joyously ridiculous 11 hours and five minutes it took to beat Nicolas Mahut over three days in the 2010 Wimbledon first round.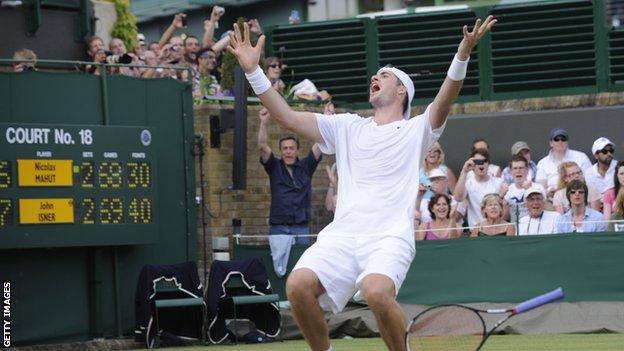 It was four hours and 30 minutes longer than the previous longest match in history and the 70-68 final set was of course its own record, both in terms of games played and the time it took (eight hours and 11 minutes). A plaque on court 18 is a permanent reminder of the madness.
Isner served 113 aces in that match - naturally a record.
Four years ago, his Wimbledon semi-final against Kevin Anderson lasted a mere six hours and 36 minutes, with the final set going as far as 26-24. It is the third-longest match in tennis history.
It was these marathons that ultimately led the Grand Slams to introduce final-set tie-breaks - and, possessing a serve that can be close to unbreakable, Isner is very familiar with these shootouts.
In fact, he is on the verge of becoming the all-time leader in that category as well. His total of 797 tie-breaks played is just four behind the man in first place - that man Karlovic.
He is pretty good at them too, though not the best. His winning percentage is 0.607, which places him 14th all time. Federer is the leader on 0.654.
Earlier this year Isner was one half of the longest tie-break since the formation of the ATP Tour in 1990. In February, he lost one 24-22 to fellow 'big-serving American' Reilly Opelka in the Dallas Open semi-finals.
Opelka's mini-break to win on his eighth match point ended a run of 26 straight points on serve. Before that, Isner missed 10 set points.
He lost that match. He lost on Friday too. But John Isner makes plenty of tennis history and that's "pretty cool".