Greece promotes smaller islands in post-Covid tourism push
By Victoria Craig
BBC reporter, Tinos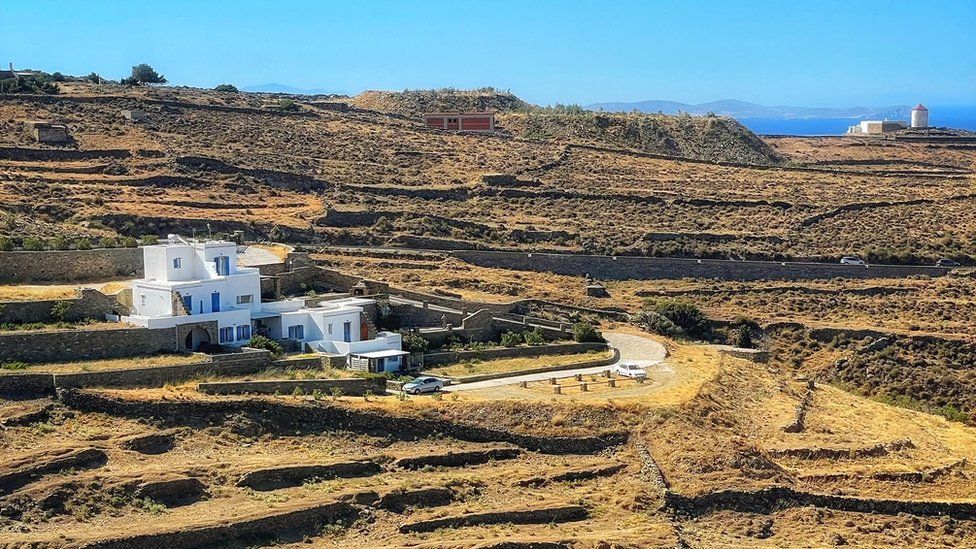 Summer is usually a period when national tourism boards promote their most well-known destinations. But two years of a pandemic have made people who live full-time in tourist hotspots reconsider whether the pre-pandemic norm of "over tourism" should return. And some governments have taken note.
This year Greece's tourism ministry launched a new strategy promoting its world-famous tourism sites while also highlighting lesser-known parts of the country.
"The campaign is 'Greece: if you come even once, you will want to stay forever'," Tourism Minister Vasilis Kikilias tells me.
"Alternative destinations. So many of them: 124 inhabited islands. Yes, of course it's about Mykonos and Santorini and Corfu and Crete, but there are so many other destinations," he says, speaking from his office in the Greek capital Athens.
Greek tourism is rebounding from its pandemic collapse. More than 18 million people holidayed in Greece in 2021. But visitor numbers last year were more than 34% below 2019 levels.
That is roughly in line with global trends. The United Nations' World Tourism Barometer showed within the first five months of this year the industry recovered almost half its pre-pandemic visitor numbers.
Mr Kikilias says his country's strategy of trying to spread tourism numbers across many destinations could help reduce the over-tourism problem that plagued so many of the world's popular places before the pandemic.
Tinos is one such destination. It is one of 33 islands and islets that make up the Cyclades, one of the country's most famous island groups. The island is most well known among the Christian community, which sees thousands make an annual August pilgrimage to the Holy Church of Panagia Evangelistria of Tinos.
The average tourist, though, often overlooks the island, with its rocky landscape, in favour of other wildly popular Cyclades destinations such as Mykonos and Santorini. But Tinos has a lot of the same draws that its neighbours boast: white-washed buildings, sandy beaches and temperate waters.
It also has traditions that locals are proud to share.
Artisan cheesemaker Angela Rouggeri has been making cheeses unique to Tinos for the better part of the last decade. Her malathouni and kariki cheeses are made in small batches.
Outside her workshop she proudly displays her mounds of malathouni, which hang on wooden rods like Christmas baubles. They are a semi-hard kind of white cheese, some of which she seasons with pink peppercorns or poppy seeds. The kariki she makes is a blue cheese that matures in gourds before it is packaged up.
Ms Rouggeri and her husband started the business during the country's debt crisis in the early 2010s. It was necessary to transition out of the construction industry that had previously been their line of work, but also an attractive alternative for the couple.
"It was something that we liked to do. We were both born into farming families and that was something that we knew since we were kids. I remember myself, when I was a little girl, sleeping and listening to the milk dripping into the bucket. Cheese making was in our homes," Ms Rouggeri says.
Demand for their cheese has grown so much, it has almost surpassed what they can produce.
"Here in Tinos, I sell to many places," she says. "It's mostly butcher shops, shops with traditional products and restaurants. Also, there are private citizens who come here and buy cheese as a gift when they go back to Athens. I don't sell to supermarkets, because they want to make more than we do. They asked me for a collaboration but I said no."
One of the few Ms Rouggeri has agreed to sell to is Spyros Bellas. He operates two restaurants - one on Tinos - serving modern Greek fare made for sharing.
"I think the most important thing is for customers, especially for tourists, even if they are from Greece or all over the world, the best thing to do is to discover the treasures a place has," he says.
"Of course I want more tourists to come to our island. The problem is if you have a lot of visitors every year, it is difficult to keep the traditions."
It is that allure of discovery that brought not just Mr Bellas to the island five years ago, but this summer's crop of holidaymakers too.
Many come from other parts of Greece, choosing Tinos for its quieter, more secluded, and foodie-friendly reputation.
One Canadian tourist named Stephen chose it as a month-long bolthole to study for the bar exam to become a lawyer. He loved the experience so much that he invited his mum Nancy for the last part of his stay.
"There's a little bakery - we've been there three times. Building relationships with the people in restaurants and bakeries that you go to - everyone's really friendly," says Nancy. "And in the bakery, they always throw in something. Today, they were like, 'oh the coffee's on us.'"
That hospitality is what Tourism Minister Vasilis Kikilias says makes Tinos - and Greece - unique.
"Philoxenia is a Greek word. You cannot translate it in another language. It is that deep need of the Greeks to host foreigners…and this is what makes travellers you know, fall in love with Greece," he says.
Angela Rouggeri agrees, but reiterates it is tradition that makes her island special. While there is a feeling of openness, she is not in a rush to export its unique flavours.
"When someone comes to Tinos and tries [my cheese], he will have the taste. Then he will try it again in Athens and his mind will go back to Tinos," she says.