Channel migrants: More than 800 cross English Channel in small boats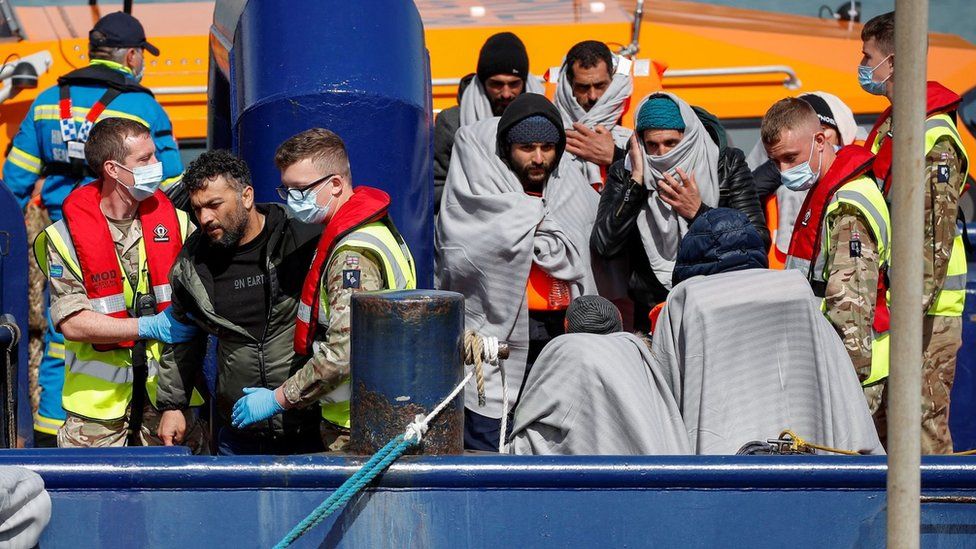 Just over 800 people crossed the English Channel in small boats on Thursday, meaning 2,818 migrants have made the journey since Monday.
The Ministry of Defence said 804 people made the crossing in 16 small boats on Thursday.
So far this month 7,729 people crossed from France, bringing the total so far this year to 24,128, BBC figures show.
The government has described the rise in crossings as "unacceptable" and "an overt abuse of our immigration laws".
A Ministry of Defence spokesman said: "Our new Nationality and Borders Act is breaking these evil criminals' business model, through tougher sentences for those who facilitate illegal entry into the country, with 38 people already arrested and facing further action since it became law."
Since the UK formally left the EU last year, asylum seekers who arrive from a "safe third country" can be returned.
The government has announced a proposal to fast-track removals of Albanians who cross the Channel in small boats.
An agreement with the Albanian government is expected next week to allow its police to be stationed at ports in Kent.
The first Rwanda flight was grounded in June after the European Court of Human Rights said the High Court in London must first fully examine whether the removals policy was lawful.
Both Rishi Sunak and Liz Truss say they will push ahead with the Rwanda policy if they become the new Conservative party leader and prime minister.
Related Internet Links
The BBC is not responsible for the content of external sites.