Ukraine: Refugees in the North East mark Independence Day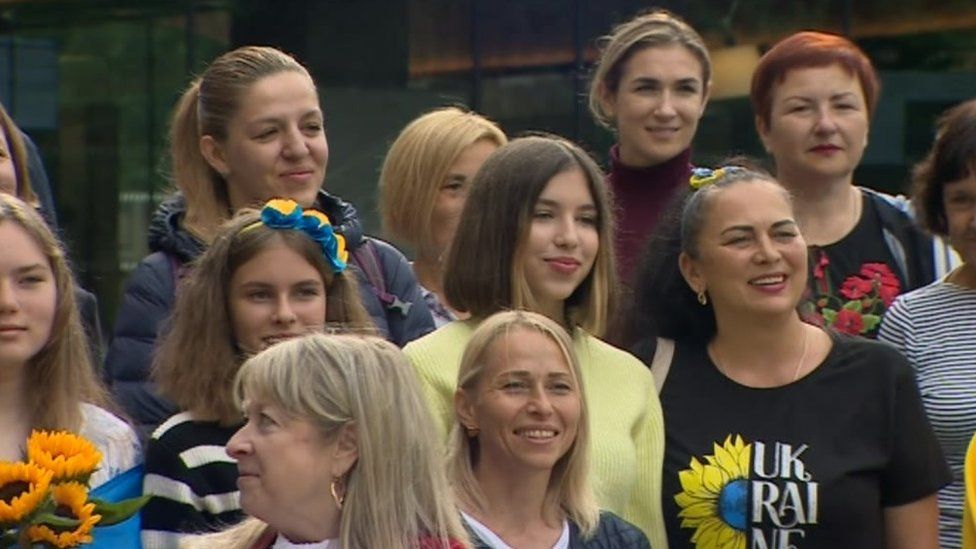 Ukrainians who fled to the north-east of England commemorated their country's Independence Day six months after Russia invaded.
More than 100,000 are estimated to have come to the UK.
Events in Ukraine to mark independence from the former Soviet Union in 1991 were banned on Wednesday in case they became targets for Russian missiles.
Maria Lyashko, who is 16 and staying in Ashington, said she was "just trying to live my normal life".
It had been "very difficult" to adjust to being in a different country while her father, Oleksandr, a farmer, remained in Ukraine, she said.
"I just couldn't imagine my life without my dad.
"He was always near me, he always helped me, supported me, advised me."
Speaking through an interpreter, Maria's mother, Natalia Lyashko, said she felt "very confused" by independence commemorations coinciding with the anniversary of the war starting.
"This day is very complicated for me," she said.
In Newcastle, the Ukrainian flag was raised at the civic centre as a choir of female refugees sung their national anthem.
Many of the women brought their children to the city earlier this year, leaving partners behind to fight or work.
One, Leysa Bourn, said Ukrainians wanted to be independent and free.
"This is what our grandparents fought for," she said.
"Then now, our parents of a new generation, 21st Century, middle Europe, we don't need this war."
Another, Maryna, said Ukraine was a "very strong and proud" country.
"We're here because the world had to know about us," she said.
Slava Shumihim, who came to Gateshead with her husband three years ago, brought her younger brother and cousin to live with her when the war started.
"It is quite complicated and tough for all of us because they left their families and friends all in Ukraine," she said.
Her 13-year-old cousin found the transition too difficult and returned home.
"Obviously her parents wanted her to stay here, to be in a safe place. However we all understand that it was a big mental trauma for her to be so far from her family," she said.
"The beginning of the year was very difficult.
"We couldn't even imagine that such things could happen."