Water use plea as drought declared for most of Wales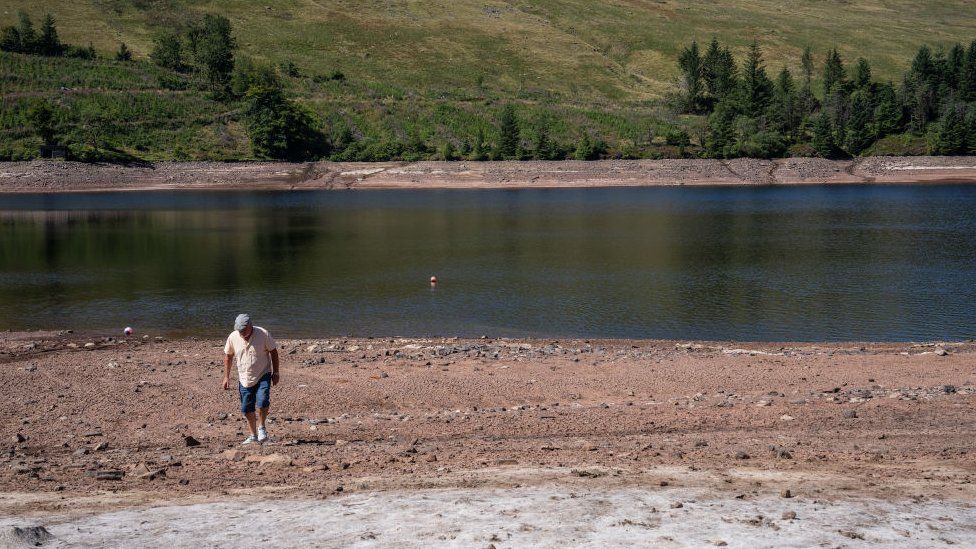 A drought has been declared in south-east Wales and parts of mid Wales, meaning the status now covers most of the country.
It is based on data for low river flows, groundwater levels and impact on habitats and canals rather than concern for drinking water supply.
But people have been asked to be mindful about how much water they use.
Natural Resources Wales (NRW) said areas affected are around the Upper Severn, Wye, Usk, Taff, Rhymney, Ely and Thaw rivers.
It means all of Wales' local authorities apart from six in the north are now covered by the drought status.
As of 22 August, Wales had had 30.8% of the long-term average rainfall for August as a whole, ranging from 15.2% in Pembrokeshire to 53.8% in Conwy.
This followed the driest five-month period in 40 years, which saw Wales receive just 61% of its expected rainfall between March and July.
NRW said the south-east Wales drought management area had seen 26.3% of the monthly average rainfall, with the Upper Severn receiving 25.7%.
It is continuing to monitor other parts of Wales closely, where concerns for low flows and the environment remain.
Sustainable water manager Natalie Hall said: "The prolonged period of dry and hot weather has seen our natural environment placed under extreme pressure.
"With little in the way of significant rainfall in the forecast, and with the impact the ongoing situation is having on the very ecosystems we all depend on, we have taken the decision to move the south east of Wales and parts of mid Wales into drought status from today.
"With south west Wales already in drought, we're keeping a close eye on the situation in north Wales and the rest of mid Wales."
During droughts, water companies can also take measures to reduce demand and conserve supplies where they have areas of concern, such as the Welsh Water hosepipe ban currently in force in Pembrokeshire and parts of Carmarthenshire.
The Welsh government said: "If any water trading options are considered, we will work with NRW and the relevant water companies to ensure water resources are managed and used sustainably and do not have any detrimental impact on water supplies or the environment."
It looked likely this announcement was coming after the West Midlands moved into drought status on Tuesday.
At the time NRW said it was working closely with the environmental authorities in England to monitor cross-border river catchments like the Severn and Wye.
River groups have been warning for weeks that levels had fallen perilously low in parts, with warm water also threatening fish and other wildlife.
NRW said it was data on river flows and groundwater levels that triggered today's announcement - the impact felt mainly by wildlife and river users like wild swimmers and canoeists.
The change in status is more about raising awareness of the severity of the situation rather than imposing restrictions at this stage - encouraging everyone in these areas to be very mindful of their use of water.