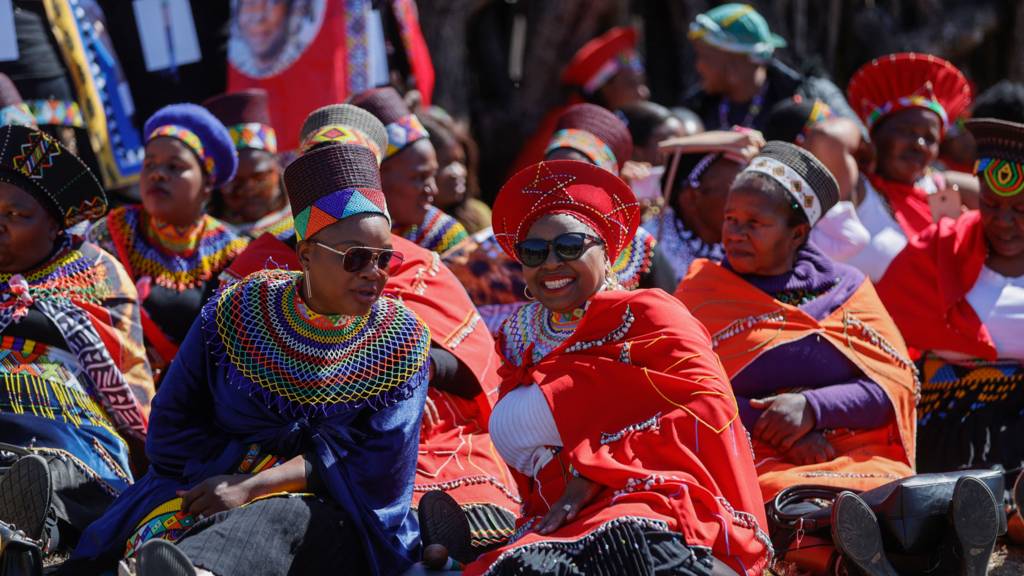 Live
Africa Live: Help offered to Zimbabwe victim of SA hospital rant
Bringing you the latest news from around Africa at bbc.com/africalive.
By Cecilia Macaulay

BBC News

Toxic gin survivors in Uganda go blind - medic

Image caption: The toxic gin was consumed last weekend with tragic consequences

A toxic gin concoction that killed 14 people in north-western Uganda has left others blind, a doctor has told the country's Daily Monitor newspaper.

All the victims are believed to have consumed a locally manufactured spirit called City 5 Pineapple Flavoured Gin over the weekend in Madi-Okollo district.

"These people have now lost their sight, some of them partially, while others are completely blind. Partially means they can still have a degree of vision but not what they used to have," said Dr Onesmus Misoa from the Arua Referral Hospital.

Police have arrested four people over the incident while the owner of a gin manufacturing plant is on the run.

WHO boss Tedros Ghebreyesus says he is struggling to send money to his starving family in Ethiopia's war-torn Tigray region.

Help offered to Zimbabwe victim of SA hospital rant

Copyright: LIMPOPO PROVINCIAL GOVERNMENT

Image caption: Phophi Ramathuba told the Zimbabwean patient: "You're killing my health system."

A private hospital in Zimbabwe has offered to pay for the treatment of a Zimbabwean patient who went to South Africa for surgery and was rebuked by an official in a rant that was recorded and went viral.

The woman, who could not be seen in the video, had been in a car accident in Zimbabwe, but went to a government hospital in the South African province of Limpopo for treatment - to the annoyance of the provincial health minister who blamed foreign nationals for the country's ailing healthcare system.

Leaning over the patient's bed, Dr Phophi Ramathuba said that Zimbabwe's President Emmerson Mnangagwa did not contribute to South Africa's health budget, and that her country's health system was not a "charity".

Now Arundel Hospital in Zimbabwe's capital, Harare - which on Twitter said it followed a philanthropic policy of offering "free medical assistance to individuals from all walks of life", has said it will settle all outstanding bills for the woman - though it has yet to find her.

"Our efforts to locate the Zimbabwean patient are still ongoing and we are grateful for the leads that we have received so far," the hospital said in a tweet.

It added that it was "not soliciting donations" despite "generous offers of donations from well-wishers".

But not everyone is impressed by the gesture, with one Twitter use likening it to a cover-up of the government's failures, urging the hospital to "stop aiding bad governance".

Read more:

Murdered Kenya election official to be buried

Richard Kagoe

BBC News, Nairobi

A Kenyan poll official who was murdered after the 9 August elections will be buried on Friday at his rural home in Machakos County in central Kenya.

The tortured body of Daniel Musyoka was found near Mt Kilimanjaro along Kenya's southern border with Tanzania, some 200km (124 miles) from his base in the capital, Nairobi.

Officials from the electoral agency held a peaceful demonstration in Nairobi on Thursday to protest about the killing of their colleague:

They petitioned parliament, the Director of Public Prosecution, and the police chief to ensure security for poll officials.

The demonstration came ahead of voting to be held in some areas next Monday. This is because there was a mix-up on polling day with some ballot papers.

These delayed votes - for a couple of governors, MPs and county assembly seats - were meant to be held this week, but the electoral commission chairman Wafula Chebukati postponed them, citing profiling, intimidation, harassment and arbitrary arrest of election officials.

He has urged investigating officers to expedite their probe into Mr Musyoka's murder and charge those found culpable.

He will also lead the commission in bidding farewell to the late Mr Musyoka, who was the returning officer for Nairobi's Embakasi East constituency.

Staff at the commission have also expressed concern over their safety after a presiding officer was shot three times in the leg by unknown assailants posing as police officers in the north-eastern town of Wajir.

In 2017, a senior election official was found dead just days before the country went to the polls.

By Danesius Marteh

Football Writer, Liberia

Tanzania minister's son fined for ramming cars

The son of a Tanzanian state minister been fined after he was accused of ramming cars last week and allegedly bragging about his father's influence.

James Simbachawene, the son of George Simbachawene, was fined for the offences of reckless driving, driving under the influence of alcohol and driving an uninsured vehicle..

He was fined a total of 250,000 Tanzanian shillings ($107, £90).

The 24-year-old was arrested after a video of the incident in Dar es Salaam, Kinondoni area, went viral.

His father had asked the authorities to take full legal action against him, adding that he was "a grown man now".

Father arrested after his young son drives to school

Image caption: Kenyan law prohibits those under 18 from driving

A nine-year-old in school uniform was stopped by police in Kenya's capital, Nairobi, while driving to school with his father in the front passenger seat.

The saloon car was stopped before it entered a private school in Athi River, on the fringes of the city, after police gave chase when the boy accelerated after being flagged down.

His younger sister was found seated at the back also in school uniform.

Kenyan law prohibits those under 18 years of age from driving.

The boy was reportedly speeding on the Nairobi-Mombasa highway, one of the busiest in the country.

The father was arrested following the incident on Wednesday, but the two children were later taken to school in a police vehicle, the Daily Nation newspaper reports.

"This action, which is not only irresponsible but also contravenes traffic laws, exposed the minor and other road users to grave danger," police tweeted, saying the father would be taken to court.

"The suspect further acted against the Children Act that vests statutory parental responsibility on the protection of children from harm and danger."

Niger begins making artificial rain to curb drought

Image caption: The country has been experiencing cycles of drought

Niger has deployed rainmaking technology aimed at alleviating the effects of drought in the country, weather authorities said Thursday.

The desert country has faced a food crisis for years because of extended dry spells.

The head of the national meteorology institute, Katiellou Gaptia Lawan, told AFP news agency: "We had to do something about this drought."

The "induced rain" technology involves using an aircraft to spray chemicals into clouds.

The intervention is targeting areas where people farm.

Some parts of the country have experienced flooding further adding to the food crisis.

WHO boss unable to send money to starving Tigrayan kin

The World Health Organization (WHO) Director General Tedros Ghebreyesus has lamented that he was unable to send money to his starving relatives in Ethiopia's Tigray region.

Dr Tedros, an ethnic Tigrayan, said the region has remained completely sealed off for two years since the beginning of the conflict and people were suffering.

"I have many relatives there. I want to send them money. I cannot send them money. They're starving, I know, I cannot help them," Dr Tedros said.

"I don't know even who is dead or who is alive," he said as he was unable to speak to them.

Here is a video excerpt from the briefing:

The conflict, which began in November 2020, has led to the deaths of tens of thousands of civilians and left millions in need of food aid.

The region has been without basic services such as electricity, telecommunications and banking.

Fighting resumed this week after months of calm following the humanitarian truce agreed in March between Tigrayan forces and the Ethiopian government.

Hijab-wearing women 'facing discrimination' in Egypt

Image caption: There are venues denying access to women wearing the hijab

A BBC investigation has found evidence that some businesses in Egypt are discriminating against women wearing the hijab.

It suggests a major property developer is refusing to sell holiday properties to families with women wearing the Islamic veil.

An undercover reporter seeking to buy property from a prominent developer, La Vista, was turned down six times when he said his wife wore the hijab.

But when he went to the office alone he was told there were properties available immediately.

La Vista did not respond to the BBC's requests for comment.

The investigation also found venues that refuse entry to women wearing the veil.

The Egyptian constitution bans discrimination based on sex, religion, race or class.

More on this topic:

Macron urges ties with Algeria beyond 'painful' past

French President Emmanuel Macron has said during a visit to Algeria that the two countries should move beyond their painful shared history and look to the future.

At a joint news conference with his Algerian counterpart Abdelmadjid Tebboune, Mr Macron announced that a joint Franco-Algerian commission of historians would be set up to study archives on French colonial rule in Algeria.

This would include the bitter eight-year war that led to Algerian independence 60 years ago.

Relations between the two countries have been fraught for decades.

During his three-day trip, Mr Macron is also keen to secure access to Algeria's huge stocks of untapped oil and gas, as Europe faces shortages because of Russia's invasion of Ukraine.

More on this topic:

Germany to return hundreds of Nigerian Benin Bronzes

Image caption: In July Germany handed over two Benin Bronzes

Germany has signed an agreement to transfer ownership of 512 Benin Bronzes, hailed as the largest return of cultural artefacts looted from the continent in the 19th Century.

The agreement was signed between the Foundation of Prussian Cultural Heritage (SPK) and Nigeria's National Commission for Museums and Monuments (NCMM).

The first objects will be returned to Nigeria this year from the Ethnological Museum in Berlin, according to a statement by the foundation.

"Around a third of the objects transferred will remain in Berlin on loan for an initial period of ten years and will be exhibited in the Humboldt Forum," it added.

The Benin Bronzes consist of thousands of metal sculptures and ivory carvings seized from the West African kingdom of Benin - in what is today Edo State in southern Nigeria - by a British military force in 1897.

Most ended up in European museums after being sold by businessmen and dealers.

In April 2021, the German government said it wanted to give back hundreds of Benin Bronzes.

More on this topic:

Wise words for Friday 26 August 2022

Our proverb of the day:

Quote Message: We see when we cry." from A Yoruba proverb sent by Azuka Omonuwe in Lagos, Nigeria

By Hugh Schofield

BBC News, Paris

Scroll down for Thursday's stories

We'll be back on Friday

That's all for now from the BBC Africa Live team, but we'll be back on Friday morning.

Until then you can find the latest updates on the BBC News website, or listen to our Africa Today podcast.

A reminder of our wise words of the day:

Quote Message: Money is very easy when it is coming from somebody else's pocket." from A Beti proverb from Cameroon sent by Gertrude Onana in London, the UK

Click here to send us your African proverbs.

And we leave you with this photo from South Africa of students competing at an inter-schools quiz competition in Cape Town:

Tigray forces deny stealing WFP fuel in Ethiopia

Image caption: Petrol is needed by the WFP to deliver life-saving food aid across Tigray

The authorities in Ethiopia's northern region of Tigray have denied a UN allegation that its forces stole fuel from a World Food Programme (WFP) warehouse.

WFP head David Beasley said it had happened on Wednesday, the day fighting broke out again following the humanitarian truce agreed in March between Tigrayan forces and the Ethiopian government.

"A group of armed men entered WFP's compound in Mekelle and forcibly seized 12 tankers filled with over half a million litres of fuel. This fuel had recently been purchased by WFP and arrived just days before it was stolen," he said.

But Tigray's regional government called his comments "incendiary" and said it was taking back 600,000 litres of fuel it had loaned to the WFP a few months ago.

"It simply demanded that it be paid back in accordance with the agreement we had," its statement said.

"The fuel will be used to run basic services, such as hospitals, clinics and other health facilities across Tigray that have been looted, and damaged by the invading forces."

The Tigrayan statement added that it hoped the misunderstanding could be resolved: "We remain committed to co-operating with humanitarian partners as they work hard to address the catastrophic humanitarian crisis raging in Tigray. In this spirit, we are ready to resolve all outstanding issues in discussion with WFP officials."

UN chief António Guterres has expressed his shock at the resurgence of fighting as in recent months there had been positive signs that peace talks were imminent.

The conflict, which began in November 2020 in Tigray, has led to the deaths of tens of thousands of civilians and left millions in need of food aid and the region has been without basic services such as electricity, telecommunications and banking.

Both sides have blamed each other for igniting the new clashes, which can be heard in the town of Kobo near Tigray's border in Amhara region.

One female resident of Kobo told the BBC: "The fighting is approximately 20km [12 miles] away from us .We are hearing sounds of heavy weaponry. It can still be heard. The war has been escalated. An additional defence force is entering the area.''

Tigrayan spokesperson Getachew Reda accused the government of sending "rag-tag militias" to the front to provoke the fighting, saying hostilities were not in Tigray's interests.

"We were counting on the international community to help open up the blockade and break the siege imposed on the people of Tigray. We need humanitarian aid for our people, we need medicines - we need everything for our people. If anything we are the last people to start fighting at this point in time," he told BBC Focus on Africa radio.

Asked if he had a message for Prime Minister Abiy Ahmed, he replied: "He cannot fight his way out of the crisis… He definitely risks the disintegration of the Ethiopian state."

Mr Getachew said the Tigrayan government was happy to sit around a negotiating table as along as there was "unfettered humanitarian access" to Tigray and the constitutional status of Tigray was guaranteed.

"Then the rest will be a question of give and take. We are more than ready to live with any government as long as this basic minimum of Tigrayan people's right to self-determination is fully observed."

The BBC has requested a response from the government in Addis Ababa.