Myanmar's executed activists: Phyo Zeya Thaw and Ko Jimmy
By Burmese Service and Grace Tsoi
BBC News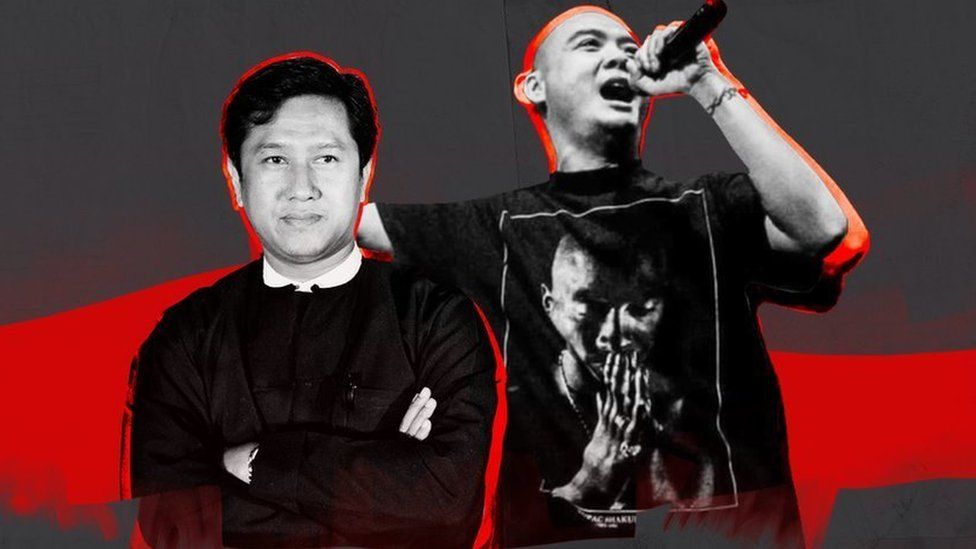 Myanmar on Monday woke up to the news that the country's military junta had executed four democracy activists, including former lawmaker Phyo Zeya Thaw and veteran protest leader Ko Jimmy. The BBC spoke to their family and friends weeks before the two men were put to death.
"I love looking at the stars. He knows it very well. At that moment, I knew the sky was the only way for us to communicate," says Thazin Nyunt Aung, recalling the night of 3 June when she found out that the military had said her fiance Phyo Zeya Thaw's execution would go ahead. He had been sentenced in January.
He was one of four activists - including Ko Jimmy, whose real name is Kyaw Min Yu, Hla Myo Aung and Aung Thura Zaw - whose death sentences were confirmed that day. All of them were executed sometime over the last weekend - it's unclear when. A state media outlet reported their deaths on Monday morning.
But weeks ago, Thazin Nyunt Aung was hopeful of a different outcome. "I strongly believe we are connected and he will stay strong," she said.
She had taken solace from the fact that Myanmar had not executed anyone for more than three decades - the last time was in 1988.
Phyo Zeya Thaw was among more than 120 people who have been sentenced to death since a bloody coup by the military overthrew Myanmar's democratically-elected government in February last year and arrested leader Aung San Suu Kyi.
The military alleged that the National League for Democracy's landslide win was rigged - a charge election officials denied. And it violently stamped out protests, some of the largest Myanmar has seen, involving tens of thousands of people.
Phyo Zeya Thaw was arrested nine months later - in November - and accused of orchestrating a series of attacks against the junta.
A lawmaker from the NLD, he was also a close ally of Aung San Suu Kyi. He accompanied her on almost all of her overseas trips from 2015 to 2020.
But before the coup, he had decided not to run for election, because he wanted to return to another of his passions: rapping.
"He wanted to write songs and perform on stage again," Thazin Nyunt Aung said. "We had a lot of dreams as artists. Everyone has many goals and dreams but all of them were destroyed by the coup. Protesters were arrested and killed and imprisoned."
He had shot to national fame after co-founding ACID, one of the first hip-hop groups in Myanmar, in 2000.
Their first album "SaTin Gyin", which means beginning, topped the music charts for months, defying expectations in a country which was quite conservative. ACID's music resonated with the frustrated youth living under then-military dictator Than Shwe.
But Phyo Zeya Thaw wanted to do more for the country.
So he co-founded a youth group called "Generation Wave" with three high school friends after the 2007 Saffron Revolution - protests led by monks, sparked by rising fuel prices.
The group sprayed pro-democracy graffiti and distributed stickers and pamphlets with the message. They were swiftly banned and Phyo Zeya Thaw was arrested in 2008. But he was released three years later under amnesty.
"Zeya Thaw loathed military dictatorship and injustice since the beginning," says his friend and co-founder of Generation Wave, Min Yan Naing. "His belief - for ending military dictatorship - was so strong that he was always ready to face whatever danger he came across.
"They [the junta] want to terrorise and frighten people. But as always, Zeya Thaw didn't give a damn about the death sentence.
"Even though he might feel something inside, he wouldn't show them [the junta]. That is Zeya Thaw."
The crackdown which followed the 2021 coup has been brutal for many pro-democracy activists.
Zeya Thaw's girlfriend Thazin Nyunt Aung left their home in Yangon and moved to a tiny safe house where she has been there since. She says she stopped using Facebook before bedtime because her feed was filled with nothing but news of arrests of fellow protesters and atrocities by the military.
When she found out about his death sentence, she said her eyes welled up and her body trembled. She felt cold. She remembered rushing out of the safe house out and walking with no particular destination in mind.
To calm herself, she looked up at the sky and recited Buddhist prayers.
"I sent my love to him and vowed not to give up. We will not back down at all. We will fight till the end," she said.
Kyaw Min Yu - better known as Ko Jimmy - was also no stranger to life behind bars.
The 53-year-old, who spent more than two decades in prison, once called it his "second home". In 1989, he was arrested and sentenced to 20 years hard labour.
He was again arrested in October last year and accused of being one of the masterminds behind the killing of military informants and attacks on power stations and state-owned buildings - charges his wife denied.
Ko Jimmy's initial crime was being a student leader of the 1988 Uprising, during which hundreds of thousands of citizens revolted against then dictator Ne Win's 26-year rule.
But even behind bars, he could never forget a high school girl in a white and green uniform, he would tell NPR years later in 2014.
Six years later, that girl, Nilar Thein, was sent to the same prison he was serving time in for organising protests. Ko Jimmy started writing letters to her, and their romance flourished.
He proposed to her, although though they could not marry in prison.
The couple was released in 2004, after Ko Jimmy had spent 15 years in prison and she eight. They got married soon after.
It would take just three years for them to find themselves at the forefront of another revolution.
In 2007, when Myanmar was swept up in the Saffron Revolution, the couple began leading protests again.
Their daughter was only a few months old when Ko Jimmy was arrested. Nilar Thein immediately went into hiding, moving from home to home with their newborn.
Before she too was arrested, she managed to leave her baby in the care of her family. The couple was reunited after they were released on amnesty in 2012.
"Over the three decades of revolution, Jimmy has experienced the worst situations both in and out of prisons. We all have to overcome those situations with undaunted spirit," said Min Zeya, another "88 Generation" leader.
After the latest arrests, many had hoped that the junta would not execute the activists, partly due to mounting international pressure.
"In 1988, many people were given death sentences for opposing military dictators. I even spent some time with those people in prison. But no-one was executed and many were released later," Min Zeya said.
News of the executions was especially shocking because the officials had arranged a virtual meeting between the activists and their families on Friday - the military spokesman even denied rumours of imminent execution, saying that they would not happen in haste.
Nilar Thein declined to talk to the BBC, citing safety reasons.
But she has been posting on Facebook every day, counting the number of days she spent apart from her husband.
On Monday, after news of the executions broke, she wrote: My love, please stay alive, our revolution must win, you are at the Insein prison.
Hours later, she posted again: Until I see Jimmy's corpse... I will not be doing any rituals.
It's unclear if the bodies of the four activists have been cremated yet.
But Nilar Thein and Thazin Nyunt Aung, on the run from the junta, will not be able to bury the remains of their loved ones.
Read more of our coverage on Myanmar
Top image by Mg Thein and Davies Surya