China textbooks revised after 'ugly' cartoons spark outcry
By Kerry Allen
BBC Monitoring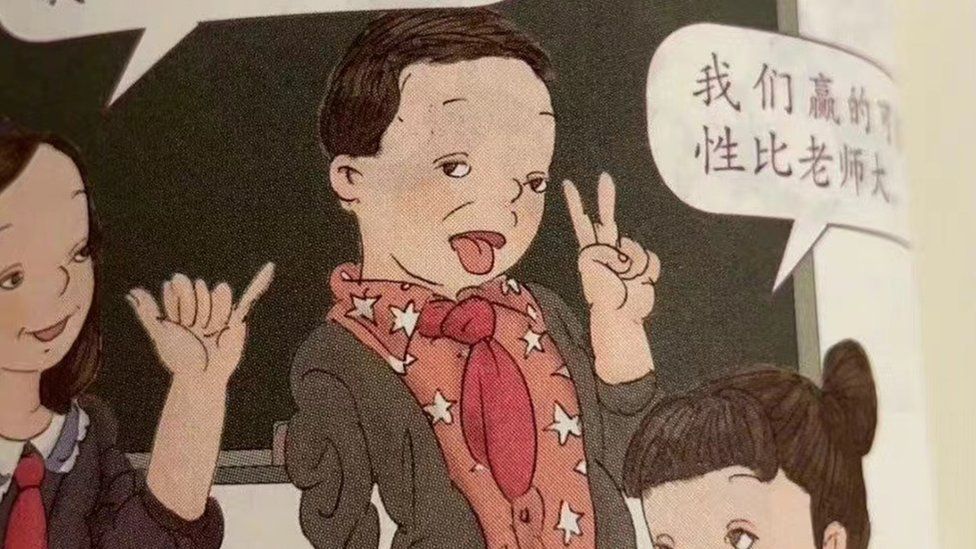 China has replaced the cartoons in several primary school books after the previous material was deemed offensive.
The publisher apologised at the time and vowed to redraw the cartoons.
Thousands of books have now been reviewed and several illustrators and publishers reprimanded or sacked.
China's Global Times newspaper described some of the illustrations showing a boy with "what looked like a tattoo on his ankle", a girl in a "bunny outfit" and children with "the US flag on".
Many critics of the cartoons accused the illustrators of "deliberately vilifying the aesthetics of the Chinese people" and called the publishers "irresponsible", the Global Times reported.
It took a team of 350 specialists to go through some 2,000 books to make sure the material was appropriate. On Monday, new illustrations were revealed that had been approved by China's National Textbook Committee.
The China Daily newspaper said that 27 people in total have been punished in some way.
They include Huang Qiang, the head of the People's Education Press, who was given "a serious warning", and the publisher's editor-in-chief Guo Ge, who was sacked.
At least three illustrators were fired over the scandal, and on Monday Chinese media reported that others would be penalised due to "dereliction of duty".
There has been widespread praise for the textbook overhaul on social media. However, most of those comments appeared to be the work of China's 50 Cent Party - government-paid social media users known to post messages in support of the government.
In May, there was initially some confusion over the textbook reform. Some on the Twitter-like Sina Weibo had commented that "aesthetics are subjective", and struggled to understand the move.
Others suggested that the move reflected a change in Chinese attitudes. For example, heightened tensions between China and the US might have made a child wearing a US-flag less acceptable.
This is not the first time that there have been sensitivities in China towards cultural content depicting the Chinese people.
In November, a Chinese photographer apologised for her "ignorance" after a picture she shot for French luxury brand Dior sparked local anger. Some argued it was an "insulting" portrayal of a Chinese woman that played on Western stereotypes.
In 2019, a debate broke out online over whether a Chinese model with freckles appearing in a Zara campaign "uglified" Chinese people.