Darya Dugina: Speculation rife as Russians ponder journalist's killing
By Will Vernon
BBC News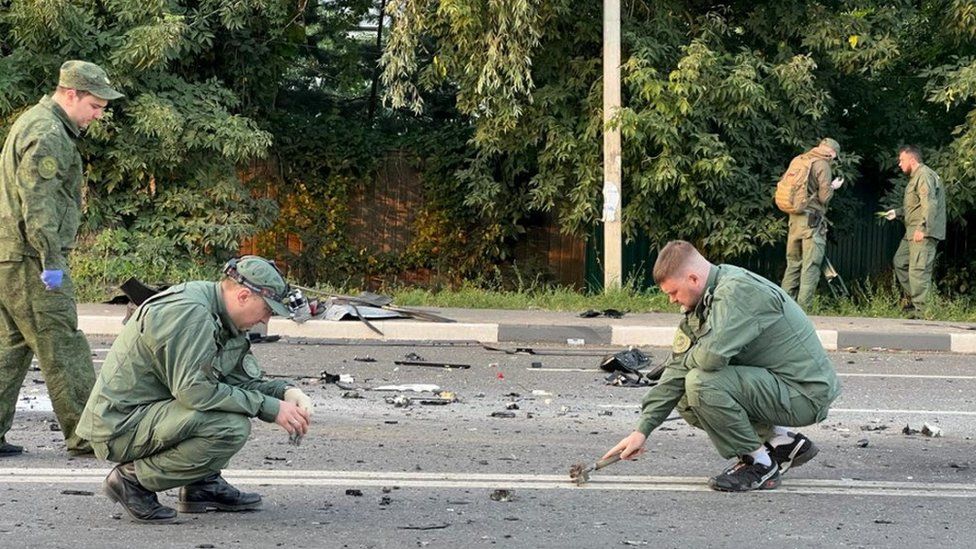 Muscovites on Monday morning awoke to a smoky haze that had enveloped the city - nearby wildfires were to blame, said the authorities. The other topic of conversation was equally murky - who killed the ultranationalist Darya Dugina, and was she the intended target?
The 29-year-old journalist was killed in a car bomb explosion on Saturday night.
Russian media reported that her father, radical philosopher Alexander Dugin, was supposed to be travelling in the vehicle, but changed his mind at the last minute. This led to speculation that Mr Dugin, 60, was the intended victim.
He is a controversial figure in Russia. His political ideology, Eurasianism, sees Russia as the centre of a new empire that will challenge liberal democracy and Western culture. Previously on the fringes of political life here, Mr Dugin's ideology went mainstream as Russia became more belligerent on the world stage.
But he has never held any official positions in state structures.
Russian political analyst Yekaterina Shulman told me that theories of Mr Dugin being "close to Putin" or "Putin's brain" are wrong.
"He may have been influential indirectly - some things he wrote may appeal to [people in the security services]... but he did not have any direct influence on the decision-making process, ever," she insisted.
But Mr Dugin was a vocal supporter of Russia's war in Ukraine, as was his daughter.
An adviser to the Ukrainian president has denied Ukraine was involved.
On Monday morning, the Time Will Tell programme on Russian state TV paid tribute to Ms Dugina, who had been a regular guest. "She died for the idea of the 'Russian World'," said presenter Olesya Loseva.
One studio guest suggested the response would be "holy fury" and the programme showed a photograph of mortar shells, apparently belonging to pro-Russian forces in Ukraine, one of which had "This is for Darya!" scrawled on the side.
If Ms Dugina's killing was meant to intimidate Russia, bellowed several of the guests, "it will have the opposite effect".
Ms Shulman says the outpouring of anger amongst pro-Kremlin commentators in response to the car bomb attack appears suspicious: "The reaction… was immediate. It looks as if they were waiting for something like this to happen."
She says that whoever was responsible, the killing "could possibly be used to ramp up some public outrage within the country to justify even more active repressive actions on the part of the state".
Amongst ordinary Russians though, the killing of Darya Dugina - a very minor figure in Russia - will have made little impact, if any.
But many here will be worried about the worsening security situation in Russia. A series of explosions have hit Russian bases in occupied Crimea, and in Russian regions near the border with Ukraine, in recent weeks.
And some opinion polls do show that more Russians are becoming concerned that the "special military operation" - what the Kremlin likes to call its invasion of Ukraine - is dragging on, and is unsuccessful.