French oil firm TotalEnergies denies link to Russian jet supplies
By Paul Kirby
BBC News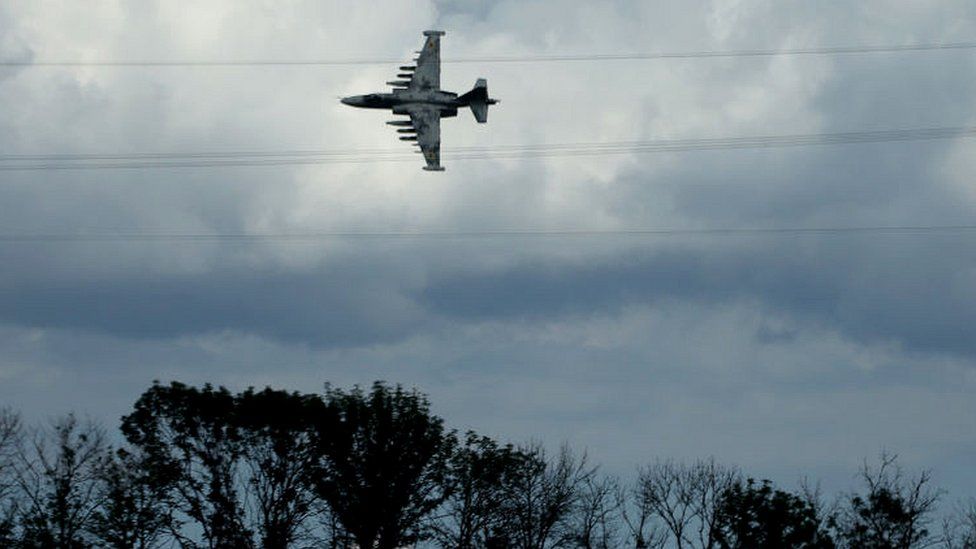 France's transport minister has called for light to be shed on allegations that oil firm TotalEnergies has been indirectly involved in supplying fuel to Russia's air force.
While most Western companies have left Russia, TotalEnergies still has a 49% stake in a Russian gas field.
French reports said jet fuel produced from its gas had been used by Russian fighter jets in Ukraine.
TotalEnergies has rejected the reports, complaining of unfounded allegations.
"It's an extremely serious subject," Transport Minister Clément Beaune told France 2 TV. "So it has to be cleared up whether, voluntarily or involuntarily, there has been a misappropriation of either the sanctions or of the energy produced by any company, French or otherwise."
The fuel supplied Sukhoi jets that bombarded Mariupol, it reported, in particular the 16 March attack on the Ukrainian city's theatre where some 600 people were killed.
Global Witness said between 13 February and July some 40,000 tonnes of kerosene had been transported west from Omsk to Russian air force bases much closer to Ukraine, in Voronezh and Morozovsk.
"Not true, TotalEnergies does not produce kerosene for the Russian army. Not true, TotalEnergies is not involved in the supply of fuel to Russian military aircraft in any form whatsoever," the company said.
While not denying the involvement of partner company Novatek in the story, the French firm said it had no operational role in Novatek nor any control over its contractual decisions. Novatek is Russia's biggest independent producer of natural gas. Its billionaire founder and chairman, Leonid Mikhelson, has come under UK sanctions in recent months.
Le Monde questioned how TotalEnergies could argue they had nothing to do with conversion of the gas condensate into kerosene, when it owned part of the company that owned the plant that carried out the process.
A number of left-wing and green politicians have expressed outrage at the claims. Former Greens presidential candidate Yannick Jadot urged President Emmanuel Macron to demand the French company's withdrawal from Russia.
Clément Beaune said he had no details personally on the issue: "It's just necessary to shed light on it."